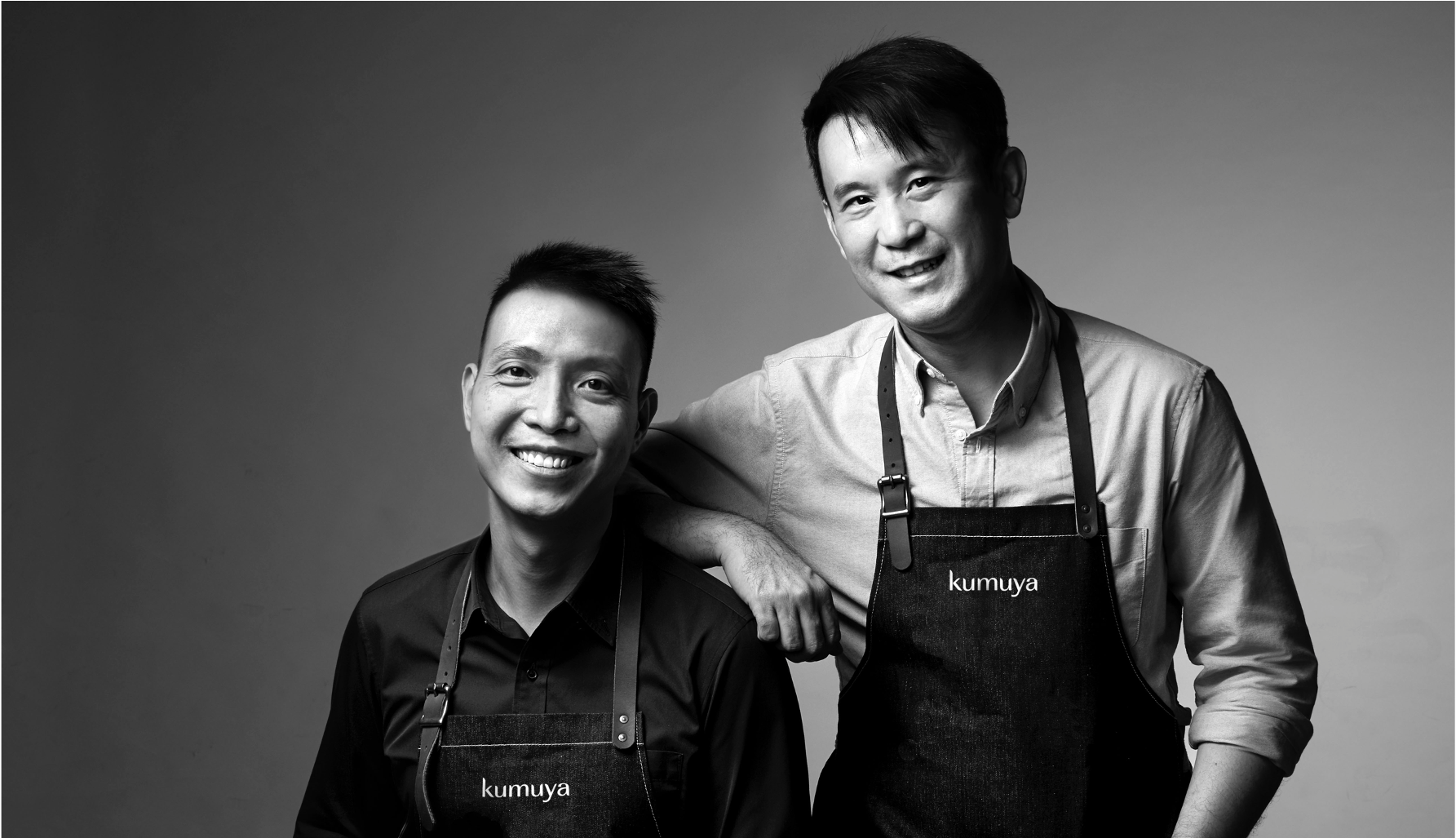 A Nutritive Multipathway Approach to Healthier Skin
Exclusive interview with Asian Beauty X
With a healthy respect for nature (Ku), a celebration of the transience of life (Mu), and the warm embrace of everything elegant (Ya), Singapore-born clean beauty label, Kumuya, promises to deliver more than just healthy skin. We sat down with the founders, Gary Chin and Terry Tong, to find out more about the science and philosophy behind Kumuya.

ABX: Hawker food, a clean, well organised "fine city" that's maybe a little soulless, Singapore is famous (or infamous) for many things but beauty brands isn't one of them. How did you come up with the idea of starting a clean beauty brand together?
Gary: *chuckles* As Singaporeans we love to eat, ESPECIALLY hawker food and we all know how unhealthy that can be! When my dad passed away from cancer, I realised how important the food we consumed was to our health and became determined at that point, to help people live better through more nutritious products.
We started our conscious nutrition business 7 years ago with superfoods - pili nuts and stingless bee honey. At that time, the concept of clean eating - which means unprocessed and nutritious food - was fairly new. Now, we want to bring this concept of clean eating to beauty with Kumuya.
Terry: Many consumers have come to understand that beauty should be clean as well - and for us that means our skincare must be free of toxins and harsh chemicals. Kumuya adopts a multi-approach to our formulations with a key focus on skin nutrition. We believe that the optimal formulation for our products is one that not only targets the external skin needs but also the internal.


ABX: Why should consumers care about "clean beauty"? What are the scientific "health benefits" to our skin?
G: Did you know that since 1938, the US has not passed a law regulating personal care products? Ever since then, more than 80,000 chemicals have been introduced into products on store shelves with only about 10% of these having been fully tested for human safety.
The FDA - the largest regulatory body of such products in the world - allows chemicals known to cause cancer including such as parabens and formaldehyde to be used in everyday personal care and beauty products. This isn't just a US issue but a global problem.
T: And to add on, for many of these carcinogens, a single or casual exposure is unlikely to cause serious harm but over time these small doses can add up and in combination, the ill effects of some of these chemicals might actually be far worse than you think!
G: Yes, we are constantly being exposed to these chemicals and toxins and we simply do not know what the long term effect of these micro exposures to these harmful cocktails will be. That's why leading a clean lifestyle is something that is catching on right now.

ABX: That seems a really dire picture!
T: Well, the research says it all. Today, 1 in 2 men and 1 in 3 women will be diagnosed with cancer in their lifetimes and rates of Asthma, ADD/ADHD, Allergies and Autism are on the rise. While there are many lifestyle factors at play, research suggests that the regular exposure to toxic chemicals is one factor.
Although exposure to "environmental toxins" happens through everyday interaction with our physical environment that we often do not have control over, when it comes to our skincare routines, many of us are wilfully exposing ourselves to these toxins
G: You can't control everything in your environment but where you can easily make a choice, why would you choose to expose yourself and your family to potentially harmful toxins? 100% clean beauty products like Kumuya do not contain such toxic chemicals.

ABX: Kumuya is a Singapore brand, why did you decide to have it produced in Sweden and US?
G: Being Singaporeans, our DNA has always been about achieving high standards in our product quality and safety. Our multicultural environment has taught us to look for the best in other cultures.
Think about your iPhone. Where is it usually considered made? The battery is from China, the accelerometer, from Germany, the gyroscope, from Switzerland, the camera is from Japan. Why is that so? That's because they want the best from all over the world to come together to form that world-class product and this is the same philosophy that we brought to Kumuya's formulation.

T: For our Nutri-Serum Concentrates, we wanted to use plant-derived alternatives of certain active ingredients (typically chemical synthetics). Our development team in Sweden are well versed with such ingredients and the specifications as to their most effective proportions.
We currently produce it in the US as we wanted a facility which could secure the specific ingredients needed and produce the products to the highest standards. The alternative was to produce it in a lower cost market but as there aren't many manufacturing locations with the required capabilities, that could have meant compromising on the quality of the final product, something that was not an option for us.

ABX: There are so many different skin concerns so how does Kumuya solve all of these problems with one product?
G: Hahaha. That's actually not entirely correct, it's two products! It's true that while both our Nutri-Serum Concentrates are designed for preventive and curative anti-ageing care they have different focuses. The Illuminate Nutri-Serum targets issues around skin tone such as unevenness, dullness, pigmentation and redness, while the Rejuvenate Nutri-Serum caters specifically to concerns around skin texture such as fine lines and wrinkles.
We had originally wanted to make only one serum but it was difficult to create such a product without losing something in its efficacy and stability - which is important as many serums actually lose their efficacy over time when exposed to the environment.

T: To add on to what Gary has said, technically, creating a serum that can address your skin problems from multiple angles is not easy and that's why consumers should always be wary of products that tout themselves as being "good for everything" as while these products often do contain the active ingredients they do not contain them in a concentration that is beneficial.
The spectrum of different skin types and concerns is very broad and, despite our best efforts, cannot be addressed with a single product. So we decided that the best way to deliver a quality product was to have two types of serums instead of one. They can be used together or by themselves depending on your skin concerns.

ABX: What makes Kumuya different from other serums in the market?
T: Everything! *laughs* Instead of opting for the easy way of tweaking existing formulations, a common practise, we decided to start from scratch so Kumuya's products are unique and proprietary to us.
Unlike serums with single or limited ingredients, combining multiple active ingredients without compromising the stability of the product required numerous reiterations and tests. This was made all the more challenging as we insisted on only using plant based ingredients.
This is why single ingredient formulations such as Hyaluronic Acid or Vitamin C serums are cheaper but you would need several different serums to get the same range and level of skincare benefits that Kumuya Nutri Serums provide to your skin.

ABX: So why the focus on serums? What made you choose to make a serum before any other products?
G: Part of the reason we decided to start with the serums is because we wanted to address the biggest anti-ageing needs first. We saw 3 shortcomings in many of the facial serums that are currently available on the market today:
1) Ingredients that don't work or only have single ingredients or a focus on a single skin concern;
2) Serums with ingredients with little or no nutritional value which means it is unsustainable for your skin health in the long run,
3) serums that use cheap and/or unsafe substitutes in order to make their products affordable.
So here's a little good news for many of those who've been asking us similar questions - we're in the process of developing new skin nutritious super products! Can't reveal too much at this time but let's just say it will make our serums work even better. ;)


ABX: Kumuya has recently won the "Best Serum - Consumer's Choice" award, can you tell us why consumers love your products and what they say about your products?
TT: Well, three things come to mind. Firstly, one of the most often heard compliments that we get is for the amazing and invigorating aroma of the elemi and lavender. These come from essential oils that also have the ability to moisturise and also rejuvenate our skin while soothing and relaxing the mind.
The second reason is because our serums are relatively light and are absorbed easily by the skin without leaving a greasy or sticky residue making these serums suitable for all times of the day especially in our humid tropical climate.
But most importantly, many of our users see visible results as soon as the next day after applying our serums and have since made them a permanent part of their daily beauty ritual. Ultimately, efficacy is the most important factor that has built us a loyal following.

ABX: So last question, Kumuya is a holistic skincare brand, so what else would you suggest our readers look out for if they are trying to achieve better, healthier skin?
G: Ouuu… we have lots!
T: Skincare isn't just about what you put on your face. What you eat and the state of your long term mental and emotional health are also important factors that affect skin health. They are also areas that you should pay attention to regardless of your skin concerns.
G: Yes. The hectic pace of modern lifestyle means that our daily diet actually lacks key nutrients needed for healthy skin. There are too many things to list here but in general, diet and mental and emotional health - getting good rest, not over stressing - are two other areas that can affect good, healthy skin.